Affordable Invoice Capture and Approval
SearchExpress Document Management is used to capture, approve and search invoices and other documents.
Let your employees telecommute.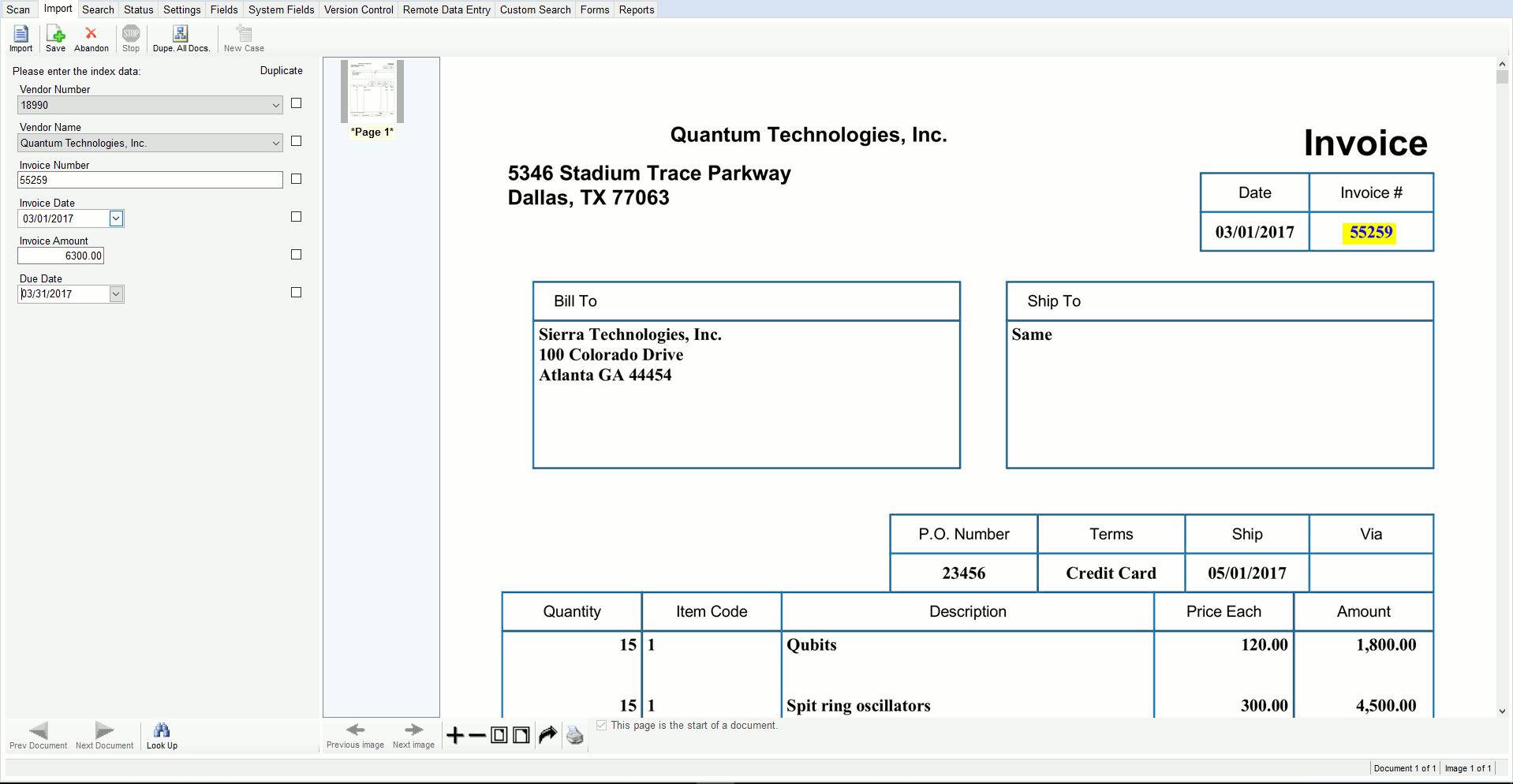 SearchExpress Features
What's It Used For
SearchExpress Document Management lets you import your emailed invoices and scan your paper invoices and other documents.

SearchExpress uses Microsoft machine learning to eliminate invoice data entry.

SearchExpress lets you approve and search your invoices from smartphone or home PC, facilitating telework.
View Invoices from your Accounts Payable System
You can view your invoices directly from your A/P software. Just highlight the invoice number to display the captured invoice.

Or, search invoices from your browser, on PC, tablet or smartphone.

With SearchExpress, when a vendor calls regarding the payment status of an invoice, you can instantly see where the invoice is in the approval and payment process, saving time for AP personnel.
Testimonial
"SearchExpress features exceed those of the high-priced alternatives and with friendly and supportive service it is easy to put in production.

"SearchExpress is a great application for capturing and approving invoices."
Steve Davenport, Project Manager
Randstad Professionals, US
Wakefield, MA
Randstad is the second largest staffing firm in the world.
Find Out More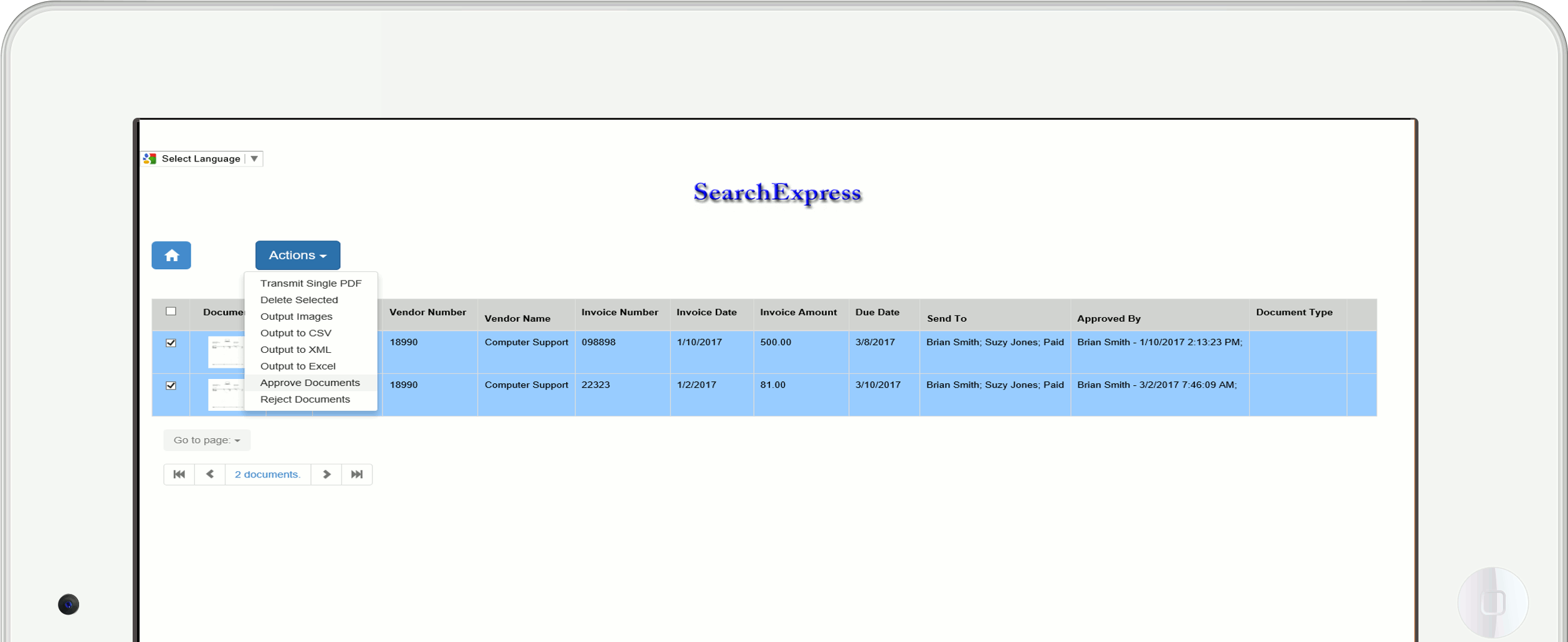 Here's One Way SearchExpress Can Work
Import
SearchExpress uses artificial intelligence (machine learning) to train itself to automatically recognize different vendors and to automatically extract the data on the invoices and pass the data to your ERP system.
This includes invoice data such as Invoice Number, Date and Vendor Name, as well as line-item data, such as Product, Unit Price, and Quantity.
This can eliminate all manual invoice data entry.
You can import invoices using PC, tablet or smartphone.
You can capture and index emailed invoices from Outlook, Gmail, Office 365 and other sources.
You scan invoices received by mail.
You can use drag and drop to import invoices you download from vendors.
You can use SearchExpress eForms to generate purchase requisitions and purchase orders.
SearchExpress can import receipts you have emailed from your smartphone (or scanned), and SearchExpress can use the pre-built Microsoft AI neural network for receipts to populate the fields such as Merchant Name, Transaction Date and Dollar Total.
Workflow
You can route invoices and purchase requisitions to different managers for approval, by choosing the manager's name from a pick list.
The managers can use a SearchExpress smartphone app to approve the invoices.
Or, the managers can use their web browser to see an approval workflow "inbasket" of all invoices that await their approval.
Or, each manager can automatically be sent an email for each invoice, and approve the invoice from their PC, tablet or smartphone.
The managers can indicate their approval by clicking the Approved button after reviewing the invoice. They could also enter comments and one or more cost codes.
SearchExpress can share data with your AP, billing and other systems. For example, when you pay an invoice, SearchExpress can read the Date Paid and Check Number from your A/P database and write this data to the SearchExpress database.
Search
You can view your invoices directly from your A/P software, including Oracle, Microsoft Dynamics, Sage and Quickbooks. Just highlight the invoice number to display the captured invoice.
Or, you can use your browser to search by invoice number, date, check number, or other identifying information.
Approved can be stamped on the image of fully-approved invoices.
You can make notes on invoices.
Click a button to see all related documents, such as receiving report, PO and canceled check.
Features
For invoice capture software search features, click here.

For invoice capture and indexing features, click here.

For invoice business process automation (workflow) features, click here.